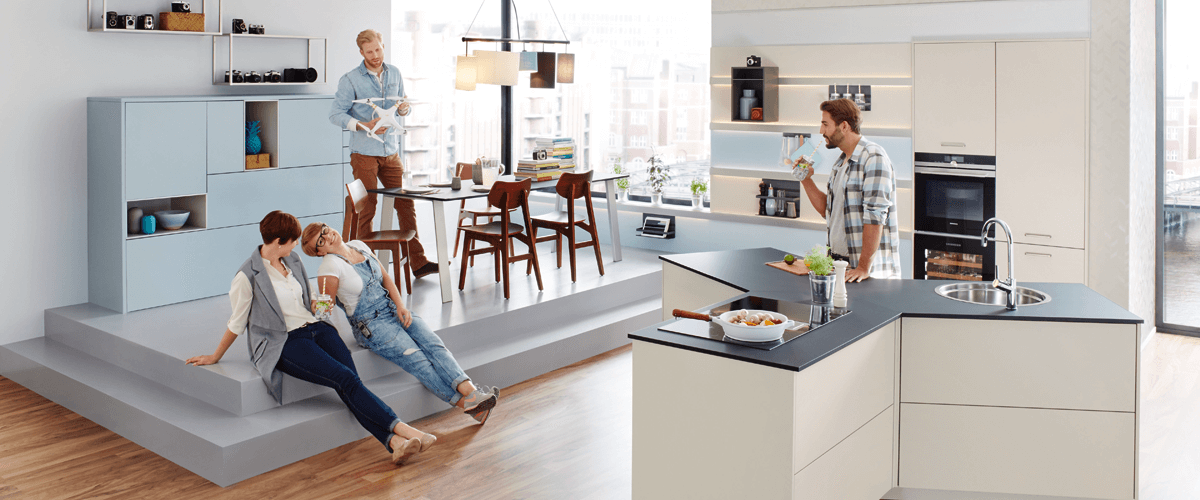 JULY Launch of our exciting new consumer web site: https://mykitchenspecialist.co.uk/
We have created a brand-new consumer facing web site that promotes independent kitchen specialists and generates consumer sales leads for members. Listing on the site is only available to KBBG members that sell one of our kitchen furniture ranges. Please speak to your local KBBG Business Manager for more details.
JUNE New Service Provider Announced - ArtiCAD
We are pleased to announce that ArtiCAD is now a KBBG service provider. Many retailers will already be familiar with this leading software company that has operated very successfully in the UK for over 30 years. Now part of the SHD Group, ArtiCAD offer software solutions for both UK and European kitchen, bedroom and bathroom brands.
JUNE New Kitchen Supplier Announced - BA
At our 2022 Annual KBBG Members Meeting we announced that the UK kitchen & bedroom furniture manufacturer BA (formally BA components) are a KBBG supplier. The full BA product range is now available to KBBG members at exclusive buying terms.
BA have 30 plus years experience in manufacturing kitchen & bedroom components. They have three state of the art factories: Cookstown, Doncaster & Rotherham. Alongside their componant offer, BA also have Blossom Avenue, a complete rigid kitchen range, plus a comprehensive flat pack kitchen range and a complete bedroom offering. BA demonstrate progressive product development so they are always on trend.
MARCH New Supplier Announced - Multipanel
As a modern alternative to tiles, Multipanel creates beautiful wall spaces with waterproof wall panels, the luxurious and modern way to decorate a bathroom or kitchen. The Multipanel wall panel collections come in a range of sizes and finishes, including marble, stone and wood, offering a range of design possibilities and allowing your customer to reinvent their bathroom in a style that is uniquely theirs. Quick and easy to install using the unique Hydrolock system, completely waterproof and comes with a 30-year warranty.
OCTOBER New Supplier Announced - SWIFT ELECTRICAL
With over 40 Years' experience Swift Electrical has played a major role in the supply of kitchen appliances, sinks and taps to the independent sector. With a strong ethos on partnering with branded suppliers and delivering great customer service. Swift Electrical is The UK's Big Brand Distributor. They are major stockists of Neff, Bosch, Hoover Candy, Hotpoint, Whirlpool and Liebherr appliances, plus Franke sinks and taps.
KBBG 2021 ANNUAL MEMBERS MEETING MONDAY 11TH OCTOBER
After a cancellation and a postponement, we were so pleased to finally be able to hold our Seventh Annual Members Meeting at the Williams F1 Experience Centre near Oxford on Monday 11th October. It was a great venue, with large grounds, wonderful meeting areas and a large screen theatre. It was so nice to be able to meet so many members and suppliers once again in person. During the day there were presentations covering diverse subjects such as changing consumer buying habits, how to manage your online reputation plus presentations from our event co-sponsors, Novy and Caple. After lunch we held a panel discussion about the increasing importance of smart appliances. Many suppliers supported the meeting with special on the day offers for members. At the meeting we announced the date of next year's members meeting will be Monday 13th June 2022, please keep this date free in your diary.
SIMON ACRES GROUP - Offers KBBG Members online sales training resource
Have introduced a number of online kitchen sales training courses that are delivered by SAGL MD Simon Acres, in an easy to access video format. The KBB specific content is focused on improving skills during the customer journey and is designed to help kitchen and bathroom retailers maintain margins, close more sales and sell more products. The topics are covered in clear digestible modules that can be done at any time, in the convenience of a learner's own home. There is something for everyone whatever their level of experience, from establishing the basics for a new starter, smart tips and solutions, to acting as a reminder for a more experienced member of the sales team.
MAY New KBBG supplier - The Radiator Company
Part of the IRSAP Group, was formed in 1998 and has become one of the largest independent suppliers of design led radiators in the UK and Ireland. With over 20 years experience in providing the best in contemporary radiators, The Radiator Company can help your customers choose the perfect heating solution for their home. They have designs that are suitable for every room; Living rooms, Hallways, Kitchens, Bedrooms, Bathrooms and Conservatories, and can paint selected radiators in any RAL colour to match the kitchen door colour. They believe that they have the most extensive range in the UK
MARCH 18th WEBINAR - Don't WASTE this opportunity at your DISPOSAL to help combat theMARCH 24th WEBINAR - NOVY PREMIUM APPLIANCES
Our third 2021 webinar took place on WEDNESDAY 24th MARCH at 1.00pm and was hosted by our premium appliance supplier Novy. Who presented their company to members, as well as introducing some new products that will be available later this year. The Novy team explained why Novy is the fastest growing premium appliance brand in the UK.
To play the webinar please click here: Novy/KBBG Webinar Links

Growing food waste crisis, be more environmentally friendly and add to your margin
Our second 2021 webinar took place on THURSDAY 18th March at 1.00pm. Food waste disposers have been around for as long as I can remember, but with so much focus on the environment and how we all need to better manage food waste, there has never been a better time to sell food waste disposers. So are you already adding one to every kitchen quote and if not, why not? Our next KBBG exclusive webinar, hosted by InSinkErator, will focus on this often forgotten and misunderstood product and give you advice and tips on how you can add food waste disposers to your sales routine and add an additional £5k to your margin each year. To join this webinar please email: b.millerDYXV KEJIderkreis.coCZYW LFKJuk
JANUARY 27th WEBINAR - HOW TO SUCCESSFULLY SELL IN A VIRTUAL WORLD
Our first KBBG webinar, was titled 'How to successfully sell in a virtual world', was led by the Director of Lead Wolf, Graeme Wilson. The webinar was carefully crafted to help KBBG members successfully organise virtual appointments to continue to generate leads while showrooms must remain closed during lockdown. Graeme shared insights and tips that covered the whole process of organising virtual appointments from what to include on a booking form, right through to how to host the meeting and follow up with the client afterwards. Graeme Wilson, Director, Lead Wolf, explains: "Virtual appointments have never been so important with the changing nature of how independent retailers are operating due to the pandemic. What's more, we have taken note of the change in consumer behaviour and foresee many of the new ways of working to continue to be popular with consumers beyond the pandemic. We therefore encourage retailers to adapt their selling process now, by introducing virtual appointments for example, and integrating these new ways of working into their future sales process too."
Here is a link to a recording of the webinar: Generating and Managing Virtual Appointments | Lead Wolf (lead-wolf.co.uk)
JANUARY 2021 LATEST NEWS REGARDING THE NEW GOVERNEMENT RESTRICTIONS
Inline with the latest national restrictions announced on Monday 4th January, our UK Head Office is now closed. However our staff are working from home and are available to help and support our members and suppliers as required. Please contact us on 0788 7247811 or info@derkreis.co.uk
ONGOING 2020 KBBG COVID Statement
The KBBG confirms that all employees will comply with the government's guidance on managing the risk of COVID-19:
As per government guidance we have carried out a COVID-19 Risk Assessment and shared the results with all KBBG employees.
Our Business Managers will not leave home and will self-isolate if they develop any Covid symptoms.
All our field-based business managers are equipped with full WHO (World Health Organisation) approved products for sanitisation.
We will do everything practical to manage transmission risk. Our Business Managers will sanitise any equipment used (including car interiors) before and after each appointment.
We will always adhere to social distancing and wear a face covering as per the government guidelines throughout our day.
We will follow to all measures that you have put in place for your business for the safety of your staff.
We have the appropriate PPE (single use face coverings & gloves) for any face to face business meetings.
Our Business Manager will not cold call and only visit on a fixed timed appointment. Off-site meetings and virtual meetings using Zoom or MS Team are available if you prefer.
We will update these measures in-line with the Government recommendations and guidelines.
NOVEMBER 2020 ACQUABELLA joins the KBBG
The multi-award winning Spanish premium bathroom brand Acquabella has joined the KBBG and is available to members . Offering a vast range of premium made to measure shower trays, worktops, panels, baths and bathroom furniture, Acquabella further strengthens the KBBG's range of bathroom suppliers.
OCTOBER 2020 Exclusive offer from LEAD WOLF for KBBG Members
If you give Lead Wolf an hour of your time and you're interested and it works, you make an extra £300k plus per year. If you don't choose to go ahead, you've lost an hour, but you may still have learned something. Frankly the juice is worth the squeeze!
The KBBG has joined forces with Lead Wolf, a digital agency that specialises in consumer lead generation for the kitchen and bathroom industry. Lead Wolf successfully helps independent retailers increase the number of high-quality customer sales leads coming into their business each month, and now KBBG members can access an exclusive offer from Lead Wolf to support business growth.
This new, exclusive offer gives KBBG members a unique discount on Lead Wolf's services. The successful digital agency provides a sophisticated raft of online solutions exclusively to KBB retailers. This includes everything from optimising the retailer's website, to social media, paid advertising management and link building, to deliver exceptional conversion rates.
MAY 2020 Best ever annual bonus payments for KBBG Members
This year (2020), the bonuses paid to KBBG members have been the best they have ever been. The bonuses were paid thanks to efforts made in 2019 and many members of the group received their highest payment to date.
When the COVID-19 crisis hit the UK, in an attempt to support members in the most beneficial way possible, the KBBG paid qualifying members their 2019 bonus two months early, in order to give them a much-needed cash injection. The bonus payments are just one of the benefits that the KBBG has to offer and the KBBG aims to continue to help independent kitchen and bathroom specialists throughout the COVID-19 crisis and beyond."
MAY 2020 Exclusive Virtual Showroom Tour offer for KBBG Members
The KBBG has partnered with Virtual 360 Tours Glos. The partnership enables KBBG members to create a virtual tour of their showroom at a special discounted price. Virtual tours are an increasingly important tool as we continue to live and work in different ways as a result of the COVID-19 pandemic.
Virtual 360 Tours Glos will help retailers capture their showroom from all angles and create an easy-to-navigate tour. Customers will be able to explore what is on offer, safely and remotely, should they be unable to physically visit the showroom. Tours can also be integrated with social media channels and Google Earth to reach more consumers and enhance sales prospects.
KBBG members can benefit from an exclusive offer on the various services from Virtual 360 Tours Glos, generating additional support during these exceptional times.
MARCH 2020 KBBG announces Getley as a new kitchen and bedroom supplier
Alku is a new furniture brand, established and manufactured by Getley. Founded in 2006, Getley UK specialise in the manufacture and supply of high quality rigid cabinets and carcases direct to independent kitchen, bedroom and bathroom retailers. At kbb 2020, Getley launched a brand new range of traditional and contemporary kitchen and bedroom furniture under the Alku brand name. KBBG is pleased to announce and add the Alku brand to the buying group's UK manufactured range.
A lack of storage space in the home is an issue many UK consumers face. The new Alku range of kitchen and bedroom furniture creates smart storage solutions with a stylish aesthetic and high quality, long-lasting materials. Alku furniture boasts the finest hinges, drawers and accessories available, so consumers can have confidence in the reliability of the brand.
Dan Hughes, Marketing Director, Getley UK, says: "Alku is designed to fill the gap in the market between the modern, large-scale German manufacturers and the smaller, more traditional, bespoke offering from UK manufacturers. Our aim with Alku is to complement German manufactured ranges and to provide studios with a greater range of furniture to offer to customers. We are excited to be joining forces with the KBBG to provide members with a UK offering of both kitchen and bedroom furniture."
We are delighted to welcome Alku as a supplier of a UK manufactured range to the KBBG, and are pleased to be able to offer our members bedroom furniture as well as an extended kitchen offering. The Alku range boasts impressive storage solutions with every inch, hinge and door carefully chosen to ensure consumers can make the most out of the space in their kitchen or bedroom. Alku currently has 16 kitchen and 11 bedroom ranges within its portfolio with more planned and they look forward to introducing the designs to members.